Japan: Prison chic trend grows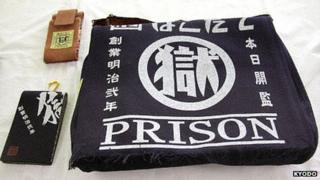 Smartphone covers and shoulder bags emblazoned "Prison" and made by juvenile inmates have become fashionable in Japan.
Products bearing the character "Goku" - or jail - have proven so popular that Hakodate Juvenile Prison, in Hokkaido, has had to call in help from two other local penitentiaries to keep up with demand, according to Kyodo news agency. It has a range of more than 50 products and sales are reportedly worth 63 million yen ($633,465; £420,000) a year.
It seems Burma's opposition leader Aung San Suu Kyi is a fan. She's said to have taken home products including a phone pouch after spotting them in the Japanese justice minister's office during a visit last year. Inmates apparently used to make uniforms for private-sector companies but - with orders declining - the workshops switched to turning out aprons with a designer-style label. It appears no-one expected them to take off. "We were all surprised to have such unexpected reactions," chief prison officer Hideki Koshino told the agency.