Pakistan: President left town 'to avoid evil spirits'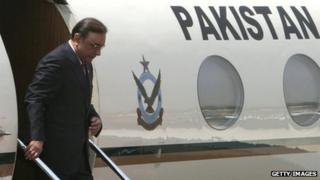 Pakistan's president left the capital after his "spiritual mentor" warned of "evil spirits dangling over his head", it's reported.
Asif Ali Zardari's adviser on all matters spiritual - known as a "Pir" - had told him to stay near the coast for "good luck", according to Dawn.com. It says the president's departure from Islamabad caused the cancellation of a ceremony at which foreign envoys present their credentials, meaning eight ambassadors - including those from China, Brunei, Lebanon and Uruguay - had to wait a fortnight to start work. Diplomatic norms dictate they can't take up posts until they've undergone the formality, it seems.
When the president moved to Karachi, the embassies scrambled to switch the ceremony's location to the port city. However, the plans were changed again, Dawn reports. The ambassadors were hoping to finally meet Zardari this week. According to a diplomatic source quoted by the site, they can expect red-carpet treatment and a horse-drawn procession.