Altered images: Protest march 'was city marathon'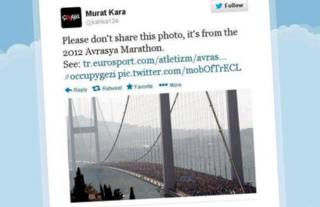 Photos of foreign riots and runners in Istanbul's Marathon were used by Twitter "provocateurs" to depict the recent protests over Turkey's Gezi Park.
At least that's the conclusion of the ruling Justice and Development Party (AKP), whose analysis of "social media lies" was reported by the Turkiye'de Aksam newspaper. It notes that social media was the main communication channel during the protests, triggered by plans to redevelop part of the park in the central Taksim Square, with about 3,000 tweets per minute sent the day police intervened.
Among claims about opponents tweeting misinformation and "Photoshop-modified pictures", the AKP says a picture shared as "a march from the Bosporus Bridge to Taksim" actually showed crowds at the Eurasia Marathon. Another purporting to show thousands of people in Taksim Square was in reality taken in Cairo's Tahrir Square, the report says. Meanwhile, an image labelled "dog sprayed with pepper gas" was an edited shot of Italian police, according to the review, which adds that "young man crushed by a [riot control vehicle]" was taken abroad.
Elsewhere, social media users claim to have spotted a doctored image on the website of the Russian Orthodox Church. They say a picture of its primate, Patriarch Kirill, delivering a sermon from the balcony of the Trinity Lavra of St Sergius, north-east of Moscow, was altered, reports the Russian news website Lenta. In it, the entire square in front of the balcony is full of people, but it's claimed the same faces can be seen in more than one location.
The church's press service has not commented on the photograph, which has since been removed from the website. Last April, the church apologised for showing a photo of Patriarch Kirill that was doctored to remove a luxury watch he was wearing. At the time, the Patriarchate said the manipulation had violated its ethical code, that the incident would be investigated and "the guilty ones... punished severely". Bloggers had spotted the reflection of the gold Breguet timepiece - said to be worth more than £19,000 - on a highly-polished table.