Mexico: Drug wars spill onto Facebook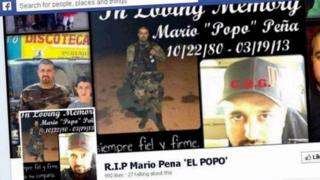 Mexico's drug wars are being fought on Facebook, where gang members brand themselves "sicarios" - or hit-men - on profiles.
The phenomenon has prompted people to develop "narco pages" to make anonymous tips, according to the Oronoticias radio station. It highlights the case of Roberto Arturo Gandara, one of many who showed off powerful assault weapons via Facebook. On his page - online until last Friday - he apparently described his job as to "kill people who were not right and to kill rivals". He died last week in a shootout with Chihuahua state police, according to the station broadcasting east of Mexico City.
The Valor por Tamaulipas page, which records drug-related violence, is said to have some 242,000 followers - or about 8% of the state population. Analytics firm Alexa.com identified narco pages as the most visited in the country, according to Oronoticias. However, they are not without risks. The Historias del Narco blog reported in May that organized crime operatives in Tamaulipas were suspected of killing at least four people who used social networks to report cartel violence.