Mali: Musicians 'on brink of starvation'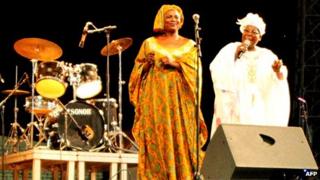 Musicians in conflict-hit Mali have been driven to the brink of starvation by the country's state of emergency, it's claimed.
The West African state has endured a year wracked by military uprisings, separatist wars, al-Qaeda's attempted takeover of the north and French military intervention. Emergency measures forbade all gatherings, even weddings, that might "result in a disturbance of public order", although football matches escaped the ban. Despite Mali's celebrated musical heritage, its performers and "griots" - traditional praise singers - were among the hardest hit, reports Radio France Internationale (RFI).
Performers' union president Mbaye Boubacar Diarra told the station: "We have 12,000 singers and musicians who have been technically unemployed for seven months. They have nothing to eat or any means of survival. Griots live off baptism and marriage ceremonies. When these were banned... it was a catastrophe." He said Timbuktu and Gao - northern cities still threatened by al-Qaeda - celebrated festivals during the emergency, while singers in the peaceful capital Bamako were banned from even marking birthdays. With measures now lifted, RFI suggests the Muslim month of Ramadan, which has just begun, could bring bookings at fast-breaking feasts.
Use #NewsfromElsewhere to stay up-to-date with our reports via Twitter.