Iran: Ayatollah's party off as birthday 'not worth celebrating'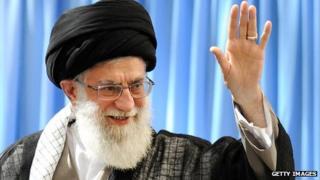 A birthday party for Iran's supreme leader has been cancelled, with Ayatollah Ali Khamenei reminding people it "isn't worth celebrating".
Monday's event, planned by the Islamic Revolution Guards Corps in the central city of Shiraz, was called off amid widespread mockery and criticism from Iranian social media users. Web users circulated images of banners erected across the city, calling on the public to join in the party featuring "fireworks, jugglery and dinner". But, on Saturday, base commander Col Hamidreza Gerami reportedly apologised to the supreme leader for the actions of "enthusiastic youth and supporters of the leadership".
In 2007, Khamenei denounced any attempt to mark his birthday. And he spent a portion of his big day this year tweeting sections of that speech. "I'll never be thankful to 1 celebrating my birthday but consider him responsible 4 spoilage," his official Twitter account remarked. The cancellation didn't stop social media users from mocking the planned gathering, with some comparing it to celebrations held on the birthday of the former Shah of Iran before the 1979 revolution. "They used to hold birthday parties for the Shah... This poor dictator has the right to have fun as well," wrote "Ailar Pink" on Facebook.
Use #NewsfromElsewhere to stay up-to-date with our reports via Twitter.