Japan: Cubic melons 'a snip at £500' in Moscow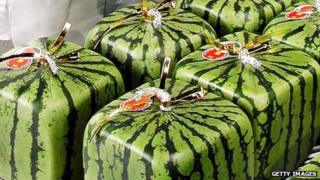 Japanese-grown "square" watermelons are being exported for sale in Russia at more than £500 a piece, it's reported.
The cubic curiosities are on sale for up to 28,000 roubles in luxury supermarkets, nearly 300 times the price of their spherical cousins, according to Japan's Kyodo news agency. However, it seems they're failing to part shoppers with their cash. One store assistant told reporters there'd been "no rush" to buy them, although a few shoppers had picked them up "just for fun", according to the Moscow Times.
Melons are a popular present during Japan's summer gift-giving season, ochugen, when co-workers, friends and relatives exchange items. Farmers in Kagawa Prefecture apparently use plastic containers to give the watermelons their shape but - because the Russia-bound fruit are harvested before ripening - they're only intended for ornamental purposes. However, since they're not clearly marked to that effect, some customers have eaten them, reports suggest.
Use #NewsfromElsewhere to stay up-to-date with our reports via Twitter.