Russia: Pussy riot computer game 'promotes church'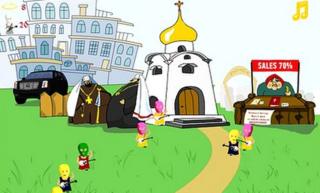 Youngsters in Russia are being encouraged to go to church with a computer game called Stop Pussy Riot Getting into the Cathedral, it's reported.
The game - which references the all-female punk band's protest performance in Moscow's main cathedral - involves players using a cross to smite guitar-wielding figures in balaclavas who try to enter the building. But its use at an event to promote the Russian Orthodox Church did not go down well with the hierarchy, it seems.
Church spokesman, Archpriest Vsevolod Chaplin, said the event - which also featured distinctly unorthodox icons of Stalin, Einstein and Gandhi - was "too post-modernist". He told Russian news agency Interfax: "Alongside quite normal missionary material, there was a very strange computer game and non-canonical icons." Among the game's other quirks were images of an expensive Swiss watch, allegedly owned by church leader Patriarch Kirill. It was backed by a soundtrack of the song performed by Pussy Riot, which led to their jailing, in which they implored Virgin Mary to "expel" Russian President Vladimir Putin.
Use #NewsfromElsewhere to stay up-to-date with our reports via Twitter.