Iran: MP 'threatens Jack Straw with tomatoes'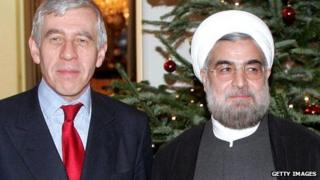 An Iranian MP has threatened to pelt ex-British cabinet secretary Jack Straw with tomatoes, it's reported.
The former foreign secretary was invited by President-elect Hassan Rouhani to his swearing-in ceremony, amid signs of a potential thaw in relations with the West. Since the election, the UK has made noises about turning over a new leaf - with the British press viewing a visit from Straw as a chance to oil the diplomatic cogs. But it seems some Iranian MPs aren't quite so keen to bury the hatchet after years of verbal confrontation and Western sanctions over Tehran's nuclear programme.
Iran's Fars news agency quoted a member of the country's National Security and Foreign Policy Commission on the matter. "Today's world is a world of dialogue and understanding but since the British government has always been behind conspiracies against our country, the Iranian nation is sceptical about their slogans of better ties with Iran," MP Mohammed Hassan Asafari reportedly said.
Rouhani and Straw share mutual respect after nuclear talks between 2002 and 2004. But mention of Straw's presence in Tehran hasn't gone down well with another security committee member, Gen Esma'il Kowsari. The Iranian Students News Agency (ISNA) quotes him as saying: "I don't really know why some individuals expect Jack Straw to appear at the Iranian parliament; it seems they have forgotten British tyrannies against Iran. If Straw comes, we will show the required reaction." What that might be, he doesn't mention. However, ISNA quotes MP Ruhollah Hoseynian as saying he would "welcome Jack Straw by throwing tomatoes at him".
Straw does have at least one ally in the shape of senior conservative MP Ali Motahhari. "What is wrong with Jack Straw's presence at the president-elect's swearing-in ceremony, even if it is aimed at negotiating with Iranian officials?" ISNA reports him as saying. In any case, it seems Straw will miss the event because of a prior engagement.