Kazakhstan: City chiefs 'made to get buses'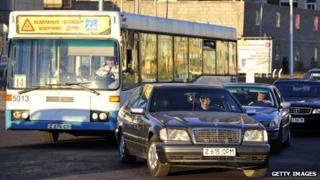 Top officials in Kazakhstan's largest city have been turfed out of official cars and onto the bus, it's reported.
Almaty City Mayor Akhmetzhan Yesimov ordered them to get "closer to the people" to hear about their concerns, according to the privately-owned Tengrinews website. It quoted youth policy directorate head Sanjar Bokayev as saying he initially "thought the mayor was joking". But it seems he eventually came round to the idea, and hopped on the 127 to his office. "I quite quickly reached my destination," Bokayev was quoted as saying. "It's important to be in tune with the people, learn their problems, what they think and what they discuss. Today I heard women... discussing the rising price of vegetables and utilities."
He reportedly confessed to having use of both a personal and work vehicle but said departmental heads would, from now on, travel to conferences and meetings only in official cars. The report was met with some scepticism from web users in a country where fewer than one-in-five people own cars, according to World Bank figures. Several branded the move "window-dressing", while one or two suggested the civil servants would end up buying personal buses.
Use #NewsfromElsewhere to stay up-to-date with our reports via Twitter.