N Korea: Have floods washed away Kim Jong-un's ski resort?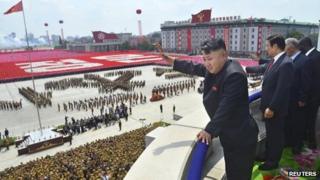 While North Korea displayed its military might to the world to mark the 60th anniversary of the Korean War's end, it seems the country is fighting to rescue one of its prestige projects.
Seoul-based news website, Daily NK, says the plan to develop a "world-class" ski resort at Masikryeong in North Korea's east has run into major problems, with heavy rains causing landslides and the collapse of part of the building site. The country's leadership view the resort as a vital project. When he inspected work in May, Kim Jong-un ordered it be ready by the end of the year. State news outlets even coined the term "Masikryeong Speed" to describe any project needing urgent completion.
Analysts say the resort is being developed to help the North appear "strong and prosperous", as South Korea prepares to host the 2018 Winter Olympics. A fortnight of heavier-than-expected rain led to dozens of deaths, with at least 46,000 North Koreans losing their homes, the United Nations says. In spite of the floods, a parade and ceremonies marking the North's self-declared "victory" in the 1950-53 conflict went ahead as planned - under bright sun - in the capital Pyongyang.
Use #NewsfromElsewhere to stay up-to-date with our reports via Twitter.