South Korea: TV crew film fatal stunt off 'suicide bridge'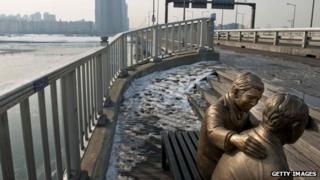 The largest TV station in South Korea has defended its actions after sending a camera to film a civil rights campaigner's stunt which resulted in his death, it's been reported.
It appears that Sung Gae-Ji, leader of the "Men of Korea" male rights campaign group was killed jumping off the Mapo Bridge over the Han River in Seoul last week after telling followers he was putting his life on the line to raise 100m won (£58,500) to clear the organisation's debts. Broadcaster KBS, whose cameraman was present at the protest, came under fire for allegedly doing nothing to stop Sung from jumping, but the TV company pointed out that their staffer called emergency workers before and after the ill-fated stunt, the Joongang Daily newspaper said.
Authorities have installed a number of anti-jumping devices and uplifting messages at Mapo Bridge, known for its high number of suicide attempts. However, police say Sung's death was a tragic accident, and part of a "performance" which went wrong. Sung was known for his relentless promotion of men's rights, leading a campaign against South Korean laws which he believed to be unfairly favourable to women.
Use #NewsfromElsewhere to stay up-to-date with our reports via Twitter.