Japan: Hiroshima struggles to preserve atom bomb heritage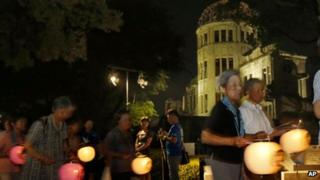 The people of Hiroshima are never likely to forget the day in August 1945 when a US atomic bomb devastated the city, but it is becoming harder to preserve physical reminders of the blast.
Twenty years ago Hiroshima council listed 98 buildings that survived within three miles of the epicentre of the blast.
It put up 75% of the money private owners needed to save them, but the number of buildings is now down to 86 as economic realities bite.
"I know it's important to retain remains of the atomic bombing, but I have to keep my workers on the payroll," container materials factory owner Shinichiro Kirihara tells Kyodo news agency.
He demolished a flat brick building at his plant last summer, as it stood in the way of a new warehouse, but kept a section of the wall as a reminder of the bombing.
Yoshifumi Ishida is a city official who seeks to promote world peace through commemoration of the Hiroshima blast.
He calls the remaining buildings "living witnesses", but acknowledges that they are expensive to maintain and not of much practical use. "We want them to remain as they are, but we may be asking too much," he concludes.
Use #NewsfromElsewhere to stay up-to-date with our reports via Twitter.