Altered Images: Russian drug agency gets national flag wrong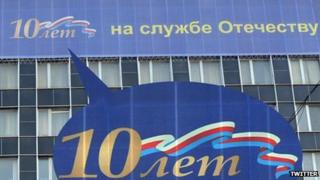 Russia's counter-narcotics agency has celebrated its 10th anniversary with a large banner displaying the national flag. Well, almost the national flag, as it got two out of the three colours the wrong way around.
Earlier this week Moscow expressed outrage over a member of US rock group Bloodhound Gang stuffing the Russian flag into his underpants during a concert in Ukraine.
And now the Federal Service for Control over the Trafficking of Narcotics (FSKN) has some explaining to do after embarrassing itself by displaying a celebratory 10th anniversary banner with the Russian flag colours in the wrong order. The blunder prompted one Twitter user to ask: "Do potheads work at the FSKN?"
And FSKN spokesman Nikolai Kartashov's explanation for the error was equally blundering. According to Kartashov, the banner had been hung outside the building back in March but had been "turned over by strong winds".
However, it didn't take long for bloggers to note the hole in this argument: No matter which way you turn the agency's version of the flag, the red stripe stays in the middle, and no amount of twisting and turning would restore the blue to its correct place.
Not missing a chance to compare the FSKN's mistake with the Bloodhound Gang stunt, the drug agency was accused of their own act of desecration: "The FSKN is our Bloodhaund [sic] Gang. They've also fouled up the flag," said one tweet, while another said that the agency's flag represented "cocaine, blood and blue meth."
Use #NewsfromElsewhere to stay up-to-date with our reports via Twitter