Russia: Underwear protest targets drivers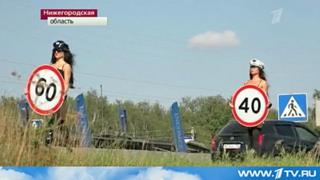 It takes scantily-clad women at the roadside to make some Russian drivers slow down, it seems.
Young women posed in underwear at the side of a motorway in Nizhniy Novgorod region, east of Moscow, holding speed limit signs in front of them. And Channel One TV says they had the desired effect - causing drivers to slow for a better look. It's unclear who was behind the stunt but the state-controlled station says it was "supported" by traffic police. Some locals are evidently fed up with drivers' attitudes, with one complaining: "I may have to take my clothes off just to cross the road because drivers don't always stop for you."
It's not the first such instance of young women being employed to improve Russian driving habits. Last November, TV stations reported on traffic police in the Baltic coast region of Kaliningrad sending out female officers dressed as angels - complete with white halos, wings, skinny jeans and stiletto boots - to flag down errant drivers. It came after the authorities launched a campaign to clamp down on drink-driving in the wake of a series of horrifying crashes.
Use #NewsfromElsewhere to stay up-to-date with our reports via Twitter.