Pakistan: 'Celebration fatigue' dampens national day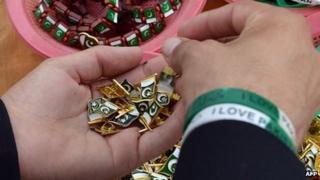 Monsoon rains and post-Eid "celebration fatigue" dampened enthusiasm for Independence Day in Pakistan this year, it's reported.
Sales of bunting, flags and badges - normally big sellers around the 14 August holiday - were well down, but it had nothing to do with a lack of patriotism, one paper says. The three-day Eid al-Fitr festival - which marks the end of the fasting month of Ramadan - had fallen just a week earlier this year. And the Karachi daily Dawn says households who'd already spent liberally on shopping for the celebrations weren't so keen to blow more of the family budget marking the national day.
Cities across the country observed the usual flag-hoisting ceremonies just before 9am on Wednesday, when traffic on roads, railways and at sea came to a halt for one minute. But many events took place in heavy rain, with the weather resulting in flood alerts and more than 90 deaths across the country. The Meteorological Office recorded more than 7in (18cm) of rain in Lahore, it was reported.
Use #NewsfromElsewhere to stay up-to-date with our reports via Twitter.