North Korea: Video games take off but 'run on batteries'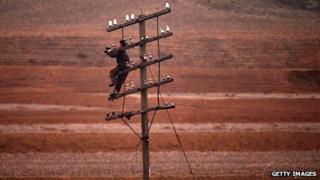 Video games are gaining popularity in North Korea - but children need battery packs to stop power cuts spoiling the fun, it seems.
Many relatively affluent North Korean homes have DVD players, with many watching foreign movies and dramas, while children whose families can afford a joystick use them for games, according to the Daily NK. But the South Korean website, which focuses on its northern neighbour, adds: The problem... is electricity; so they charge their batteries with the electricity that is available, and use the batteries to play games." It quotes an opposition source from the north as saying addiction to games is growing, with cases of children playing games so much that frustrated parents end up doing their school homework.
The north's state-controlled newspaper Rodong Sinmun, paints a different picture, showing crowds of people happily blasting away at virtual opponents in an arcade in the capital Pyongyang. In the kind of scenes usually seen in British seaside arcades, relatively privileged families are photographed enjoying games at the Rungra People's Resort "in their thousands", according to official propaganda. North Koreans with enough money to buy the state's official Samjiyon tablet computer can also enjoy the cult game Angry Birds.
Use #NewsfromElsewhere to stay up-to-date with our reports via Twitter.