Indonesia: Police 'raid toy gun fans' over shootings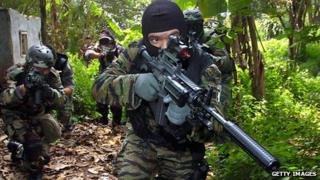 Police investigating shootings in Jakarta have been raiding homes of toy gun enthusiasts, it seems.
But fans of the combat game Airsoft insist their hobby has nothing to do with a series of attacks on bus shelters and a police building. The Airsofter Indonesia community argues that members' low-power replica guns fire plastic pellets and can't be modified to fire metal rounds, the Jakarta Post reports. "What we are doing here is simply sport and fun. We use a toy gun that doesn't pose any threat," says one, while showing reporters that the guns are not powerful enough to shatter glass.
Despite calls for the hobby to be officially regulated, it seems even the police's national security director says that Airsofters can't be responsible for the attacks. Airsoft shooting emerged in Japan and is played around the world using realistic-looking airguns that fire pellets which are generally harmless when used in the way they're intended. The guns usually, but not always, have an orange muzzle to distinguish them from real weapons, and clubs tend to meet away from public areas for safety reasons.
Use #NewsfromElsewhere to stay up-to-date with our reports via Twitter.