Italy: Mayor's late-night Twitter rant over rubbish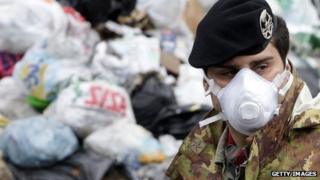 The mayor of Naples has indulged in a late-night Twitter rant about getting no publicity for cleaning up the city.
Luigi de Magistris berated the Italian media. His first post-midnight tweet read: "Before [I became] mayor, Naples had rivers of money but was full of rubbish; with us, without money, no rubbish, no landfill sites and no incinerators." Then he complained: "But the national media don't report our revolution on rubbish, it isn't news!" Before De Magistris was elected in 2011, the army was called in to clear 2,000 tonnes of rubbish from the streets after full landfill sites and faulty incinerators caused a massive backlog.
But the mayor didn't stop at waste, posting a series of tweets listing achievements: expanding public transport, saving the city from bankruptcy, bringing sports events and even "The Boss", Bruce Springsteen, to Naples. De Magistris seems particularly stung by attention lavished on Mayor of Rome Ignazio Marino for pedestrianising the Via dei Fori Imperiali, near the Colosseum. He moaned: "Two years ago I pedestrianised the most beautiful promenade in the world, 5 km, but only the Fori Imperiali, well done Ignazio, makes the news!" Just before 1am, he finally mused: "I could go on but I'll stop myself".
Use #NewsfromElsewhere to stay up-to-date with our reports via Twitter.