Russia: Chechen leader 'posts speeding video'
News from Elsewhere...
...as found by BBC Monitoring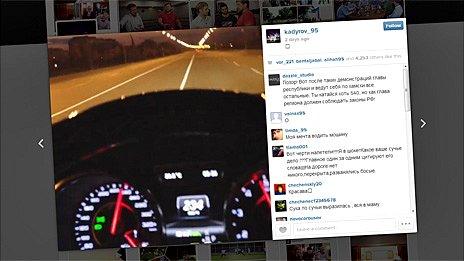 Chechnya's president has posted a video online which appears to show him driving at 150mph - weeks after comparing those who break traffic rules to "terrorists".
In one of three clips, posted on Ramzan Kadyrov's official Instagram account and apparently filmed from the driver's seat of a car, the speedometer can be seen reaching 241km/h - more than twice the motorway speed limit. Another seems to show the car travelling past an arch at the entrance to Khosi-Yurt - the Chechen name for Kadyrov's home village of Tsentaroy in the southern Russian republic. The incident sparked outrage among activists, with one Russian NGO calling for the State Traffic Safety Inspectorate to bring Kadyrov to account, the Kavkazskiy Uzel news website reported.
The NGO recalled Kadyrov's earlier statement that "those who consciously violate [traffic] rules and cause emergencies are similar to terrorists". Russian traffic police analysed the videos but declared it impossible to "clearly identify the vehicle or the person who drove it". No traffic cameras had clocked a car travelling faster than 200km/h in August, the statement added. Afterwards, Kadyrov posted a photo of himself riding horseback and joked that he'd taken to riding after being stripped of his drivers licence.
Use #NewsfromElsewhere to stay up-to-date with our reports via Twitter.