Germany: Policeman sues over 'sauna trauma'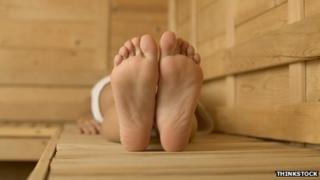 A German policeman claimed damages for "temperature trauma" caused by chasing a peeping Tom in a sauna, it's reported.
In his case against the state of Bavaria, the chief inspector claimed he suffered lasting effects after being called to a thermal spa near Munich during a freezing winter late shift two years ago, Sueddeutsche Zeitung reports. Naked bathers had apparently reported a man filming them with a mini-camera. The suspect was caught and two cameras confiscated but the policeman, 52, reportedly said he started feeling dizzy and nauseous soon afterwards, blaming it on the time spent in the steamy heat in his heavy winter uniform.
Ever since, he's been plagued by tinnitus, difficulties sleeping, memory loss and recurring dizziness attacks, it's claimed. It seems a police doctor refused to recognise it as a work-related accident but a specialist in alternative medicine testified in court that it was a case of "temperature trauma". The court was unimpressed, and rejected the case on Tuesday, the paper reports. It quotes the judge as saying the term "cannot be found anywhere", whether in medical encyclopaedias or Wikipedia.
Use #NewsfromElsewhere to stay up-to-date with our reports via Twitter.