Germany: MP won't be gagged in bondage row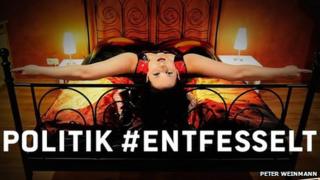 A German politician has been caught up in a media row after being photographed in bondage gear.
Jasmin Maurer, who's a leading light in Germany's Pirate Party, posed for the pictures as part of a private photo workshop. But the 24-year-old member of the Saarland regional assembly came under fire from the tabloid Bild, who wrote an article with the headline, "Is THIS How an MP Should Appear?" - with the images reprinted in full.
Ms Maurer has not taken the criticism lying down.
"A four-letter newspaper is trying to drag me through the dirt and create a scandal over a couple of pictures. But the only scandal here is the paper itself, which has got all upset but itself often prints pictures of women without any clothes on at all," she wrote on Facebook, over a copy of one of her bondage shots.
The Pirate Party, which campaigns for political transparency and internet freedom has issued a statement in support of Ms Maurer. She herself says she is receiving more and more social media messages pledging that "now we will definitely vote Pirate first!"
Use #NewsfromElsewhere to stay up-to-date with our reports via Twitter.