Yemen: Al-Qaeda Kalashnikov prize for Ramadan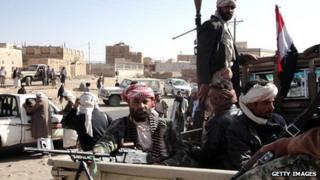 Machine guns and automatic rifles were handed out to winners of a religious competition organised by al-Qaeda in Yemen, it's been reported.
According to the News Yemen website, the contest was held during the fasting month of Ramadan in the south-eastern governorates of Ibb, Ad-Dali and al-Bayda. The prizes, awarded last week, included Russian-made Kalashnikov rifles, Chinese machine guns, Austrian Glock pistols, as well as motorcycles and other gifts.
The religious competition is considered to be the first public activity organised in Yemen by al-Qaeda in the Arabian Peninsula (AQAP) since government troops forced its fighters to withdraw from the neighbouring regions of Abyan and Shabwah in the summer of last year.
News Yemen quoted a reporter who said that a large number of people had taken part in the al-Qaeda event and that the group was now concentrating on raising its profile by giving priority to religious activities and social work. Correspondents add that AQAP is also trying to capitalise on growing anti-American sentiments among the population. US drone strikes have been effective in killing senior al-Qaeda leaders in Yemen but civilians have also died, raising tensions in the country.
Use #NewsfromElsewhere to stay up-to-date with our reports via Twitter.