Russia: Chechen riots after mosque loses text vote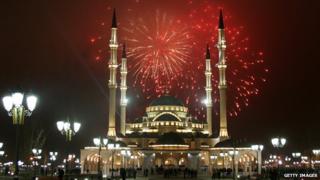 A government-sponsored contest to select 10 symbols of Russia has ended in controversy after the country's biggest mosque was removed from the top spot.
The Ahmad Kadyrov mosque in Grozny, capital of Muslim-dominated Chechnya, unexpectedly topped the list of contenders for months. But just a day before voting closed in the second round, it dropped to number two.
Ramzan Kadyrov, Chechnya's president (and son of Ahmad), reacted angrily, and accused Russia's two major mobile operators of rigging the text voting. In the days that followed, angry Chechens attacked the companies' offices in Grozny, forcing one of them to suspend local operations.
In the end, organisers reviewed the result, making the mosque joint winner alongside the Kolomna Kremlin, outside Moscow. They said voting had been skewed by hackers and "bots" voting multiple times. A scarcely credible 52 million votes had been registered on the final day of round two.
In a similar row in 2008, a government-backed contest to select the greatest Russians saw Stalin and Lenin lose the lead amid similar controversy.
Use #NewsfromElsewhere to stay up-to-date with our reports via Twitter.