South Korea: Families struggle with harvest festival cost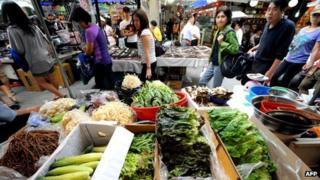 Around one in 10 families in South Korea are unable to afford traditional gifts for the country's forthcoming Chuseok (harvest festival) holiday, it has been reported.
A poll of more than 1,200 people found that 11.6% would not buy presents for the annual celebration, says one of the country's largest supermarkets.
Choi Choon-seok of South Korean hypermarket Lotte Mart expects "a noticeable trend toward inexpensive and practical presents" as households grapple with the continuing recession, says The Chosun Ilbo newspaper.
People buying presents are likely to spend an average of 196,000 won ($180; £115) on gifts of fruit and healthy food for others, but half of the people polled would like to receive gift vouchers in return.
It is traditional for South Koreans to celebrate the Chuseok holiday in the company of their families with a home-made meal, Songpyeon rice cakes, and ancestral rites.
Seoul's Transport Ministry expects more than 35 million people to hit the country's roads as the holiday season kicks off next week.
Use #NewsfromElsewhere to stay up-to-date with our reports via Twitter.