Pakistan: Zoo 'replaces animals with dinosaurs'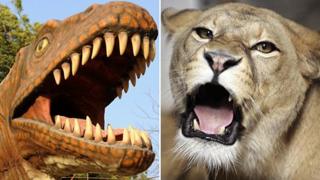 A Pakistani zoo is installing dinosaur models to make up for its lack of animals, it's suggested.
Cages which once housed lions, leopards and snakes at Marghazar Zoo have reportedly been lying empty for years, as Islamabad's city administration has been unable to find funds to replace them. Its last lion died a year ago, it seems. And zoo managers hope the giant fibreglass beasts will address the resulting slump in visitors, according to the Associated Press of Pakistan. One visitor told the news agency that the new installations were an improvement but that management should focus on getting new animals.
Local media reports frequently cite the shabby state of the zoo, carrying comments from disappointed visitors. But while the Pakistan Today website quoted anonymous sources in February as saying that three lions and three cheetahs would arrive, they don't appear to have materialised. APP quotes the zoo's management as saying the models are a stop-gap measure, and that a funding plan is in place to bring in more animals and birds.
Use #NewsfromElsewhere to stay up-to-date with our reports via Twitter.