Italy: Police close cinema 'used as brothel'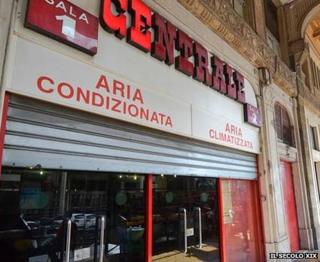 Police have shut a cinema in the Italian port of Genoa after finding it "little more than a brothel", it's reported.
They say the Cinema Centrale, next to Brignole railway station in the San Vincenzo red-light district, let clients into a den of vice for the price of a film ticket, the reports suggest. "Homosexuals, transsexuals, boys, youths and women sold themselves on the theatre seats, in the toilets, in the foyer and even in the projection room," according to the local edition of La Repubblica newspaper.
The 1958 closure of brothels in Italy reportedly drove sex workers onto the streets, meaning prostitutes often take over informal cruising venues like run-down cinemas. Magistrates do appear to tolerate discreet prostitution, but Milan prosecutors this month ordered raids on cinemas across northern Italy that they deemed to be operating openly as brothels. In the case of the Centrale, they are reportedly investigating two managers and 17 other people on suspicion of "facilitating prostitution". As for the cinematic fare on offer, La Repubblica dismisses it as "films reduced to bleeding chunks, either free of plot or looped endlessly".
Use #NewsfromElsewhere to stay up-to-date with our reports via Twitter.