Russia: Tech gadgets abandoned outside US embassy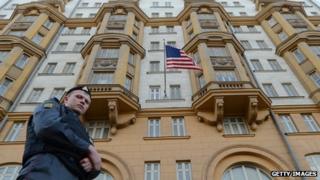 Pavements and flowerbeds around the US embassy in Moscow ended up strewn with tech gadgets after they were banned from the building, it's reported.
Visa-seeking Russians were forced to abandon their equipment after the rule change took them by surprise, according to Interfax news agency. It says only mobile phones are now accepted at the security storage room. Faced with the choice between missing their visa appointment or having their gadgets taken from them, many visitors reportedly left them outside.
The report says fences outside the US embassy were festooned with earphones and chargers, while the lawn was strewn with portable media players and other devices. One visa applicant apparently wrapped his iPad into a plastic bag and planted it into the earth next to a police booth, while another dug his belongings into a flowerbed. Seeing the predicament, enterprising Muscovites reportedly offered impromptu storage services from a car parked at the kerb. But, Interfax notes, there was no guarantee it wouldn't disappear without trace after collecting several iPads.
Use #NewsfromElsewhere to stay up-to-date with our reports via Twitter.