Canada: Military 'spent £1.6m on Arctic rescue'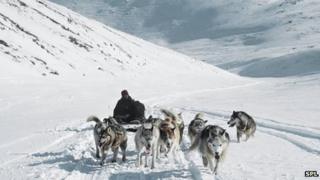 Canada's military reportedly shelled out £1.6m ($2.6m) rescuing a group of wealthy tourists after an Arctic ice floe they were visiting broke free.
But despite three Hercules transport planes and three helicopters being mobilised, the tour leader claimed it was "never an emergency", the National Post newspaper reports. It says the military was alerted after 10 tourists, who'd paid in the region of £9,000 for the June trip to Baffin Island, and 10 staff noticed the floe measuring 50 by 25km (31 by 15.5 miles) was drifting towards the Northwest Passage. Apparently, air crews made contact with an Inuit hunting party which was also on the floe to be told they were "too busy to talk". However, the tourists were reportedly worried about the ice making "large ominous sounds".
The Post says internal military documents detail the 2.7m-Canadian dollar cost, mostly comprised of flights but including the dropping of three single-use $23,000 sea-rescue "survival kits" including life raft and radio "as a precaution". The group eventually made it off the floe unaided but took a helicopter flight back to base. A Canadian forces spokesman told the paper: "When human lives are at risk... I'm not sure that a cost can really be calculated."
Use #NewsfromElsewhere to stay up-to-date with our reports via Twitter.