Altered Images: Faked posters 'confuse voters'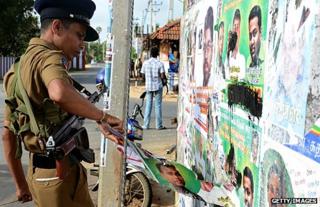 Doctored posters were on display during campaigning for Sri Lanka's recent regional elections, it's been claimed.
The country's main Tamil party won a sweeping victory to take control of the semi-autonomous Northern Provincial Council but not - according to reports in the region's media - without overcoming some dirty tricks along the way. One of the Tamil National Alliance's (TNA) complaints concerned posters of its chief ministerial candidate, CV Wigneswaran, which appeared in the regional capital Jaffna, the Colombo Telegraph reports. Apparently, they featured the wrong candidate number and would have encouraged people to cross box seven, instead of casting their vote for Wigneswaran by marking box 10.
The TNA secured 78% of the vote to win 30 seats of the 38 seats. But reports suggest international election monitors were unimpressed by the actions of the armed forces, which were accused of attacking the home of a TNA candidate. Commonwealth observers described the military as presenting "a significant obstacle to a credible electoral process", according to the Times of India, while the Colombo Gazette reported that South Asian monitors accused the military of distributing campaign propaganda and putting up election posters.
On the morning of the vote, an entire print run of a fake version of the main northern newspaper, Uthayan, was circulated. It said the TNA was boycotting the election and that a prominent candidate had defected to the government's party, when neither were true. The paper's managing editor - a TNA MP - claimed supporters of a rival party had colluded with military intelligence to print the fake, the Nation newspaper reported.