Egypt: Pro-army operetta 'banned from schools'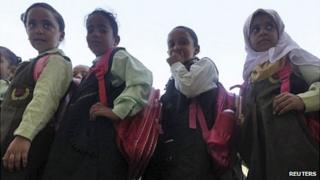 Some schools in Egypt have been playing a pro-army operetta instead of the national anthem, it's reported.
But the country's education minister banned school administrators from sounding anything other than the usual anthem, Bilady, Bilady, Bilady, during roll-call after the operetta - celebrating the ousting of President Mohamed Morsi - ended up causing scuffles among students, the al-Ahram news website reports. It quotes a ministry source as saying Mahmoud Abul-Nasr gave schools "strict" and "clear instructions" not to use songs that either support or condemn the military.
In August, the Arab Today website quoted singer Khaled Agag as saying he was keen to get involved in the operetta project because many artists had been unable to record when Morsi was in power. The president was deposed by Egypt's military on 3 July, following mass protests against the leader who was seen to have alienated some institutions and social groups and done little to improve the economy. Since then, frequent clashes have erupted during weekly demonstrations held by those calling for Morsi's reinstatement.
Use #NewsfromElsewhere to stay up-to-date with our reports via Twitter.