Belize: Police 'trained to handle crocodiles'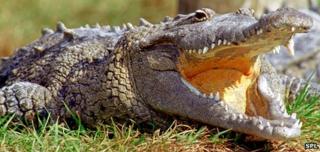 Police in Belize are being trained to handle crocodiles, it's reported.
Apparently, the American crocodiles on the country's largest island, Ambergris Caye, are losing their natural instinct to stay away from man because people have been feeding them. This leads them into new territory where they're more likely to come into contact with humans and to attack if they feel threatened, reports the San Pedro Sun. It says attacks on humans remain rare but that the presence of raccoons and rats feeding on household rubbish is also drawing the crocs nearer to land, and there have been reports of several attacks on stray and pet dogs.
So local officers went to the island's American Crocodile Educational Sanctuary for training in capturing "problematic reptiles", the Sun reports. Despite the increased threat to residents, the paper quotes sanctuary officials as saying the area's crocodile population has declined from a record 5,000 in 2005 to an estimated 1,000. Poachers who want the protected species' meat, teeth, skulls and skin are to blame, it seems.
Use #NewsfromElsewhere to stay up-to-date with our reports via Twitter.