Russia: Station has tiny church for passengers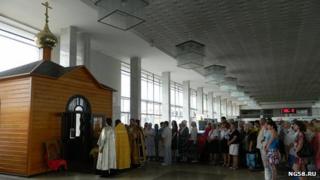 It might look like a garden shed but it seems this wooden church in a Russian railway station attracts scores of people to worship before they travel.
Built inside the waiting hall of Penza Station, some 600 km southwest of Moscow, the church holds "common prayer services" shortly before the departure of the daily train bound for the capital, news agency Penza Inform reports. It quotes one cleric at the station as saying he hopes passengers will start turning up early for their train so that they can join in the prayers.
This is not the only church inside a railway station in Russia. Moscow's Belorusskiy Station boasts one complete with three golden onion domes, which is built inside a waiting hall on the first floor. The phenomenon highlights the important role which the state-backed Orthodox Church plays in today's Russia. While the government says it's promoting traditional values, opponents of President Vladimir Putin accuse him of using religion to consolidate his grip on power.
Use #NewsfromElsewhere to stay up-to-date with our reports via Twitter.