Uzbekistan: Is 'pop star' president's daughter in power struggle?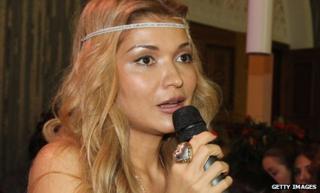 Four Uzbek TV channels went off air without warning this week - sparking rumours the country's glamorous "first daughter" was locked in a power struggle.
Three of the channels are said to have links to Gulnara Karimova, the president's millionaire daughter who styles herself as charity crusader and fashion designer, makes pop videos and once sang with actor Gerard Depardieu. Their continued absence - followed by three radio stations falling silent on Thursday - led Radio Liberty's Uzbek service, Ozodlik, to suggest they were switched off at autocratic President Islam Karimov's behest "to keep a tighter rein" on his daughter.
Karimova's been in a war of words with her sister, Lola Karimova-Tillyaeva, who recently said they'd not spoken for 12 years, adding: "There are no family or friendly relations between us." Gulnara retorted that her younger sibling - Uzbek ambassador to UN cultural organisation Unesco - was "friends with sorcerers". Opposition website Uznews reported that Gulnara had also expressed concern about her mother performing "strange rituals". On top of this, she blamed hackers for the four-day disappearance of her usually highly-active Twitter account, which has almost 40,000 followers. Previously, she'd accused "envious" people of rendering it inaccessible.
Journalist Farrux Yusufi told News Asia the broadcasters' closure could be punishment for her comments, adding that her actions were "going beyond the interests of the president's associates". Much of Karimova's publicity revolves around her Fund Forum charity, which reportedly helps hospitals, schools and needy families. Forum TV is almost entirely dedicated to reporting on its activities. A channel spokesman told Kun.uz website it had gone off air for maintenance. However, there'd been no warning of a scheduled outage and some Uznews sources reckon the broadcasters' disappearance marks the "intensification of a political struggle", with PM Shavkat Mirziyoyev and deputy Rustam Azimov.
Three channels had been "constantly running... advertisements" for Gulnara's extravagent Style.uz art week event in Tashkent, "much to the annoyance of viewers", Uznews reports. It says calls to them are either left unanswered or picked up by security guards, while a security officer for one said there'd been an order from above to "clean up their act". Meanwhile, state TV has started completely ignoring the art week. To add to Karimova's woes, singer Lara Fabian - the global star booked to bring down art week's curtain - cancelled, saying she didn't want to be a "shop-window" for a regime accused of rights abuses.
Use #NewsfromElsewhere to stay up-to-date with our reports via Twitter.