Italy: Mayor in smoke signal protest over web access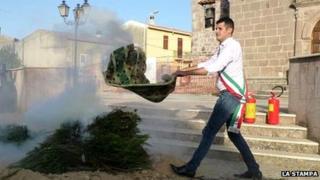 An Italian mayor sent smoke signals from the town square in protest at having no internet or mobile phone coverage.
Appeals to telecoms firms by the 500 residents of Nughedu Santa Vittoria, a small town in central Sardinia, have fallen on deaf ears, reports La Stampa. It means they've nothing but landlines to connect to the outside world. So the mayor, Francesco Mura, took to the streets in protest, armed with an old blanket and some cuttings from a shrubbery. After building a bonfire in the town piazza, he set about sending smoke signals to call townsfolk together. "We are 20 years behind," Mura reportedly complains. "What entrepreneur would open a business if you cannot use the internet?"
It seems shops in the town don't take credit cards or sell mobile phone top-ups and while Mura owns a smartphone, he can't use it. The mayor says his town is so technologically cut-off that young people are forced to leave. "How can young people live here if they can't even email their CVs?" he's quoted as saying. If the smoke signals don't get the message across, Mura has another idea. "He is already thinking about carrier pigeons", the newspaper says.
Use #NewsfromElsewhere to stay up-to-date with our reports via Twitter.