Kenya: ATMs 'dispense fake notes'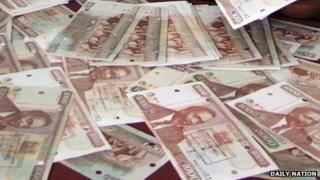 Cash machines in Kenya have been dispensing fake notes, it's claimed.
Nairobi shopkeepers told the Daily Nation they had to turn away customers who tried to pay with false notes, despite them showing an ATM receipt for their withdrawal. The paper quoted one as saying: "The idea that one could withdraw money from an ATM only to turn out fake looked surprising. But last week, a colleague pulled a 1,000 shilling ($11.70, £7.30) note from an ATM on Kenyatta Avenue and when he walked into a supermarket to buy a drink minutes later, cashiers rejected the money, arguing it wasn't genuine."
The Nation cites a financial crime survey by Deloitte suggesting most of the money banks lose to theft is the result of collusion between staff and outsiders. While the report doesn't mention false notes, the paper reckons genuine notes are replaced with counterfeits when security agents hired by banks refill machines. However, the Kenyan Bankers Association tweeted: "We are not aware that it is an industry-wide issue; it appears as five isolated cases." The Consumer Federation of Kenya rubbished these claims, according to News 24 Kenya, which quoted a senior official demanding that banks do more to safeguard customers.
Use #NewsfromElsewhere to stay up-to-date with our reports via Twitter.