Italy: Minting euro cents 'costs four times their value'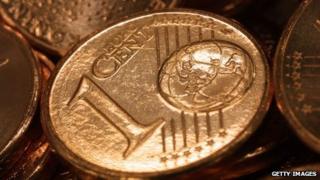 Italy spends more minting small change than the coins are worth, it seems.
MPs have reportedly been grumbling about the price of minting one-cent coins, saying each costs more than four cents to make. Left Ecology Freedom party treasurer Sergio Boccadutri told MPs the margin for larger denominations was not much better - 5.2 cents for each two-cent coin and 5.7 for five-cent pieces - dubbing the whole process "incredible", according to the Rai News 24 TV channel. Boccadutri says his calculations suggest that the state mint has made various cent coins to a total cost of 362m euros since the adoption of the single currency in 2002, even though the coins themselves have a face value of only 174m.
They're not the first politicians to question the value of producing small coins. The US has been toying with the idea of scrapping its "penny", given it costs almost twice its one-cent value to mint, according to Bloomberg. Canada and Australia have already scrapped their smallest coins. In the UK, the Royal Mint is tight-lipped about production costs. However, the Independent has suggested the British penny's face value is three times what it costs to make.
Use #NewsfromElsewhere to stay up-to-date with our reports via Twitter.