Germany: Hotel sorry for spa break named after Nazi attacks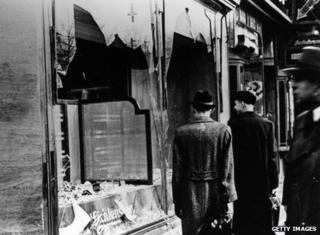 The Kristall Sauna-Wellness Park hotel has apologised for promoting a "romantic Kristall Nacht evening" for spa-lovers on the 75th anniversary of Kristallnacht - Night of Broken Glass - when Nazis attacked Jewish homes and businesses, it's reported.
Social media users condemned and parodied the online advert until the hotel in Bad Klosterlausnitz, Thuringia, removed the advert and made its apologies via Facebook, Der Spiegel magazine reports. The hotel owners say they often include the name Kristall in promotions, but acknowledge that this time it was "insensitive and extremely inappropriate". The event is now simply called a "long romantic night".
Overnight on 9/10 November 1938, at least 91 Jews were killed and tens of thousands were arrested while Nazi mobs burned down synagogues, businesses and homes. Kristallnacht was the first wave of organised violence against Jews across Nazi Germany. Social media comment included references to the spa hotel being a "Heil Bad" - literally a curative spa, but playing on the "Heil Hitler" greeting.
Use #NewsfromElsewhere to stay up-to-date with our reports via Twitter.