Publisher apologises for leaving Israel off map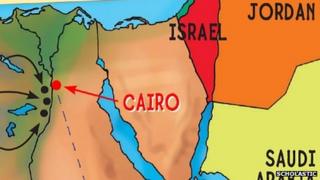 A publisher of educational books has apologised for inadvertently erasing Israel from the map in one of its children's books, it's reported.
Global publisher Scholastic has halted production of Thea Stilton and the Blue Scarab Hunt - the tale of a group of mice on a treasure hunt in Egypt - as its map of the region shows Jordan where Israel should be. Highlighting the error, the Times of Israel says that "Arab textbooks are not the only ones erasing Israel from their maps", citing a study which claims 96% of Palestinian school textbooks do not mention Israel by name in their maps.
The New York-based publisher has apologised for the omission in a series of blog posts, telling customers they can request a revised copy or print out a corrected map to stick over the old one. However, the new map has opened a further can of worms for Scholastic, with readers engaged in a heated argument on whether the map should also include the Palestinian territories.
Use #NewsfromElsewhere to stay up-to-date with our reports via Twitter.