Saudi Arabia: Must everything stop for prayer?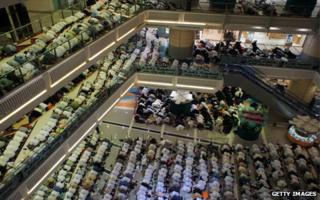 People in Muslim lands often stop what they're doing when the call to prayer comes from the local mosque five times daily. But Saudi Arabia is the only country where everything shuts down for the duration.
Commentator Abdulateef Mulhim calls for relaxation of the rule in the Jeddah newspaper Arab News, saying the question for most Saudis is not why shops close, but why they stay shut for longer than the five to 15 minutes that prayers last. He puts this down to the rise of giant shopping malls, the "sheer size of which means many people take undue advantage and report back to their positions much later".
He says Islam allows workers to pray in shifts, and calls for petrol stations, chemists and malls to remain open by adopting this practice.
He is not alone in basing his call for reform on religious rulings. Senior cleric Abdullah al-Owailet says the practice is an "innovation" with no basis in Islamic law, as shops didn't close during the time of the Prophet Muhammad. And Issa al-Ghaith, a member of the Advisory Council quasi-parliament is preparing a bill to allow hospitals, chemists and malls to remain open.
These proposals are gathering plenty of support from social media users but also considerable criticism over whether practical needs can ever trump Saudi tradition. Ayedh al-Selemi, a legal analyst at Imam Mohammad Bin Saud University, has laid down the bottom line for the time being. "There are differences between scholars as to whether congregational prayers are obligatory. But they are currently obligatory because of the laws of the kingdom," he tells the Saudi Gazette.
Use #NewsfromElsewhere to stay up-to-date with our reports via Twitter.