Indonesia: National Condom Week cancelled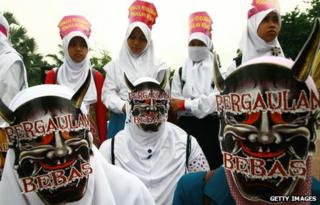 A campaign to distribute free condoms in Indonesia has been axed after conservative groups claimed it promoted promiscuity, it's reported.
National Condom Week, an annual programme designed to raise awareness of HIV/Aids, has been cancelled this year after protesting students from an Islamic group burned condoms outside the Health Ministry, the Jakarta Post newspaper reports. The programme, a joint effort by the country's Aids Prevention Commission (KPA) and condom maker DKT Indonesia has been held for the past six years. But this time, it appears some have been offended by a campaign bus apparently showing a "vulgar" picture of local artist Julia Perez as a condom ambassador, Antara News says. The bus has since been withdrawn due to "public uproar", a ministry official says.
The Jakarta Globe news website says some religious groups consider Condom Week as "an insidious campaign condoning and encouraging pre-marital sex". Among those objecting is the East Java chapter of Indonesian Council of Ulema. "We believe there are many other, better ways to educate people about the danger of HIV/Aids," says chairman Abdul Shomad Bukhori.
However, Aids Prevention Commission secretary Kemal Siregar defends both the bus and efforts to raise awareness in Indonesia. Free condoms were not given to the general public, as was claimed, but to "key demographic groups", he says. "Our focus is on preventing the spread of HIV/Aids through sexual transmission and the campaign only prioritises those at risk. Thus, it will be conducted in a closed location and will be aimed directly at sex workers and drug users," Kemal tells the Jakarta Post.
Use #NewsfromElsewhere to stay up-to-date with our reports via Twitter.