Lionel Messi Facebook insults 'a plot against Iranians'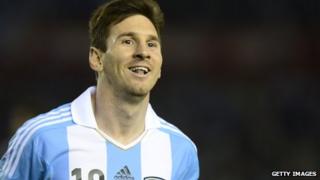 Insulting comments left on Argentinean footballer Lionel Messi's Facebook page may be a plot to defile Iran's image, it's claimed.
Last Friday's draw pitted Iran against Argentina in next year's World Cup finals, and Iranian sports newspaper Iran-e Varzeshi notes thousands of Persian-language comments have been left on Messi's official Facebook page. Most fall into the bounds of football banter but others have been branded "offensive" and "unfriendly". Iranian Football Federation officials say they regret fans' behaviour.
But would sports-obsessed Iranians do such a thing? No, parliamentarian Emad Afroogh tells the Tehran-based conservative Mehr news agency. He says the comments "seemed to be planned with the objective of defiling our public image".
It's hard to tell how many comments on Messi's page came from inside Iran. The country still officially bans access to social media sites such as Facebook and Twitter, but many people use foreign servers or private virtual networks. Despite the ban, some high-ranking officials, including President Hassan Rouhani, use social media to make announcements and post photographs. Last week, the president posted Instagram photos of himself clad in a Western-style tracksuit and baseball cap hiking outside Tehran.
Use #NewsfromElsewhere to stay up-to-date with our reports via Twitter.