India: How do you count wild tigers?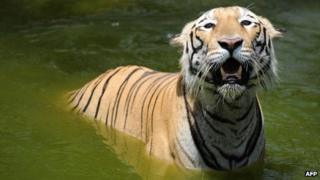 India is launching its four-yearly tiger census to determine whether the carnivore's recent increase in numbers is being sustained, it's reported.
More than 2,000 trained spotters are being sent into the field on a week-long exercise to count India's tigers, The Hindu newspaper says. They'll use sensors and camera traps alongside tried and tested methods of identifying footprints, faeces and what the paper euphemistically terms "ungulate encounter rates". However, some experts warn the methods used are "flawed and obsolete", and may result in even experienced spotters making mistakes, the New Indian Express reports, quoting tiger biologist Ullas Karanth.
Recent tiger counts have shown a rise in numbers in India. The last census in 2010/11 saw estimated numbers rise to 1,706 from 1,411 in 2006/7. However, it also showed the tiger population is still under threat from poachers, and is being squeezed into a smaller area. Tiger habitat went down from 93,697 to 81,881 sq km (36,176 to 31,614 sq miles) in the same four years, The Hindu says.
Use #NewsfromElsewhere to stay up-to-date with our reports via Twitter.