Netherlands: Witty website lands unemployed designer a job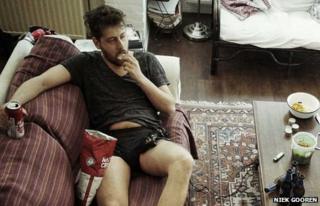 An unemployed Dutchman has been flooded with job offers after creating a website to highlight his plight, and is now back at work, it's reported.
The website shows Niek Gooren - a multimedia designer - lying on a sofa eating crisps in his underwear. "As you read this, Niek is alone and jobless," it says.
Along with his CV and a list of projects he's worked on, he explains that he'd be cheaper to employ because he doesn't take milk or sugar in his coffee. A graph shows how a company's creativity and sex appeal will be transformed by bringing him on board.
The site caused a stir when it was created in September and has now landed Niek a job with a PR firm, the NRC Handelsblad daily reports. He received "about 50 offers" and could take his pick, he tells the paper. A new version of the website shows him lounging on an office chair with a bottle of bubbly. "As you read this, Niek is washing down his crisps with champagne," it says.
Use #NewsfromElsewhere to stay up-to-date with our reports via Twitter.