South Korea: parents pick names that foreigners can pronounce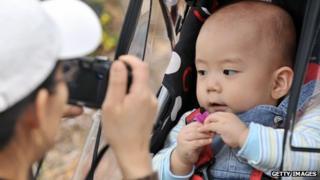 Parents in South Korea are ignoring traditions and choosing baby names that are easy for foreigners to pronounce, it's been reported.
According to Seoul-based newspaper Chosun Ilbo, the most popular boys' name over the last five years is Min-jun, with So-young the most popular for girls.
Arirang News, a South Korean broadcaster, says names which are easier to pronounce in English are gaining popularity. Complex Korean syllables such as "Eun" and "Eo" are falling out of favour as parents look to celebrities and reality television for ideas, the report said.
They are eschewing the tradition in which the grandfather - or a professional - will pick a name based on the Chinese zodiac, "to imbue the name with an auspicious meaning", according to Chosun Ilbo.
Six out of 10 Korean families still use professionals to find a name for their newborns, but a recent survey suggests fewer now believe astrologically-inspired names affect their future lives. "I don't necessarily think we should name the baby according to the time of birth, because if that were the case, all babies born at the same time would have the same fate," one woman told the paper.
Use #NewsfromElsewhere to stay up-to-date with our reports via Twitter.