China: Computer game hopes to zap corruption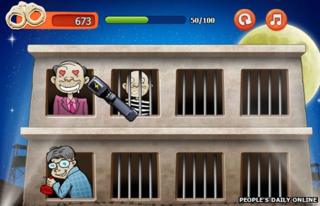 A computer game launched in China encourages players to zap corrupt officials with an electric prod, it appears.
The game appears on the Chinese People's Daily website - the official news outlet of China's Communist Party, and is based on the same idea as Whac-A-Mole, the popular 1970s arcade game.
"Everyone has a responsibility to fight corruption and embezzlement!" the game declares. When the action begins, a range of authority figures poke their heads out of one of eight prison cells, and the player has to give them a jolt from their mouse-controlled taser.
Their sins range from greed (an official with a bag of cash) to lust (a drooling bureaucrat in a pink suit). Gamers lose points if they hit virtuous police officers by mistake, however.
It isn't the first game of its kind. Another, entitled "Incorruptible Fighter" was launched by the Chinese government some seven years ago.
It's the first since Xi Jinping became general secretary of the Chinese Communist Party in November 2012, however, and highlights his focus on curbing corruption and extravagance. Last year some 180,000 officials were disciplined according to state-run news agency Xinhua - an increase of around 13% on the year before.
Use #NewsfromElsewhere to stay up-to-date with our reports via Twitter.