Italy denies minister 'forced' to wear headscarf in Tehran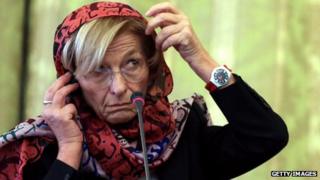 The Italian government has dismissed reports that Foreign Minister Emma Bonino was forced to wear a headscarf on a recent visit to Iran, it seems.
The reports - claiming Bonino was pressurised into wearing a head covering by Iranian officials - were published by conservative Iranian news agency Jahan News and picked up by Israel's Haaretz daily. The Italian foreign ministry has called them "a fanciful reconstruction", according to the Corriere della Sera.
Jahan News reported that an official boarded Bonino's jet, after it landed in Tehran last December, with a selection of scarves for the minister to wear - implying that her Iranian counterpart would cancel meetings if she refused.
The Italian foreign ministry denies the report, and has been backed up by Corriere della Sera journalists who were aboard the same aircraft. "We were there, and we can say without any shadow of doubt that the minister left the plane bare-headed," the paper said. Ministry staff said Jahan News may have fabricated the story because it was "vexed" that she had done so, according to Vanity Fair Italy.
Photographs taken during the diplomatic visit - the first by an EU foreign minister in a decade - show Bonino wearing a headscarf to meetings with Tehran's foreign minister Mohammad Javad Zarif and President Hassan Rouhani. The former European Commissioner is no stranger to covering her head when the occasion demands, having worn a headscarf during a visit to Afghanistan in 1997, the Corriere della Sera said.
Use #NewsfromElsewhere to stay up-to-date with our reports via Twitter.