Saudi Arabia: Pilgrims get lost inside Grand Mosque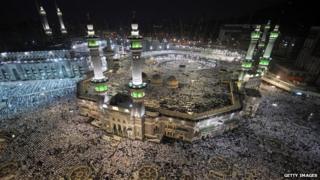 Islam's holiest mosque has become so huge that pilgrims are getting lost inside, it seems.
The Masjid al-Haram, or the Grand Mosque in the Saudi city of Mecca is going through a major expansion to cope with ever-growing numbers of worshippers, but it is now so vast yet poorly sign-posted that some people can't find the Kaaba - the shrine at the centre of the site - or end up praying in the wrong direction, the Jeddah-based Arab News reports.
One woman from Istanbul complained that entire groups were losing their way amid the heaving crowds and extensive construction work. She said not only sign-posts in various languages but multi-lingual staff were needed.
Amid the chaos, some women are charging pilgrims up to 200 rials (£32) per day to reserve them a spot to pray. According to the Saudi Gazette, the women use their handbags, personal belongings or chairs to keep spaces for latecomers. One mosque guide said that such behaviour is not allowed inside the complex, and employees have been attacked for trying to stop the practice.
Officials say a record 750,000 people performed the Umrah - the pilgrimage to Mecca - last month, and six million people are expected to visit this year. The expansion project, due to be completed by 2020, will reportedly allow the Masjid al-Haram to accommodate 2m worshippers at a time.
Use #NewsfromElsewhere to stay up-to-date with our reports via Twitter.