Altered Images: Is Obama 'listening' to India's Modi?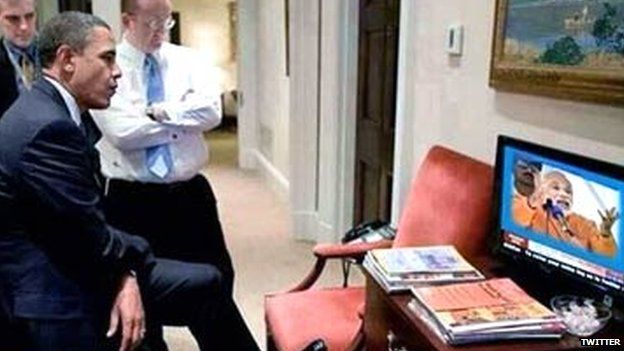 Indian media are discussing a doctored photo of US President Barack Obama apparently listening to a speech by Indian politician Narendra Modi.
It isn't clear who doctored the image of the leader of India's main opposition, the Bharatiya Janata Party, but the fake photograph went viral across Indian social networks in the last week.
Commentators on Twitter say the photo caption, "Even Obama listens to the speech of [Narendra Modi] NaMo," suggests it was released by a Modi "bhakt" - or ardent supporter - who was trying to imply the US president is following Modi's campaign to be India's next prime minister.
It's not clear which speech the image of Modi came from, but Indian news outlets, including the network NDTV and news magazine India Today, note the original photo was taken on 28 January 2011, and shows Obama listening to a speech by former Egyptian leader Hosni Mubarak days before he was forced out of power.
With a general election approaching in May, such altered images and unverified statements are becoming more common. Last week, some Indian news outlets and social media users were taken in by a tweet, apparently from the daughter of Indian cricket legend Sachin Tendulkar, endorsing Modi as India's next prime minister.
Eventually, Tendulkar himself had to set the record straight on Facebook, saying neither of his children, Sara nor Arjun, had Twitter accounts. But there are many fake accounts in both their names.
Use #NewsfromElsewhere to stay up-to-date with our reports via Twitter.