Sudan vets seize ewes 'disguised as rams'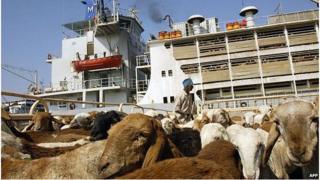 Officials in Sudan have seized more than 70 ewes with rams' sexual organs sewn onto them, after an investigation was launched concerning the country's livestock export restrictions.
Vets in Suakin port on the Red Sea coast were examining a flock of 1,000 before shipping them off for sale in Saudi Arabia when they noticed one sheep adopting the female posture for urination with hinds legs spread, writes Al-Tahir Satti in Al-Sudani newspaper. Rams urinate just as they stand, so the quarantine officers investigated further and found more than 70 of them were in fact ewes.
"The smugglers used fine thread to sew male organs onto the female sheep," the paper reports. The entire flock was impounded by customs officers, and a police investigation has led them to the pastures of the Kassala and Gadarif upland regions near Ethiopia and Eritrea. Al-Tahir says one reason why the smugglers went to such lengths to disguise the ewes is that "productive female livestock are the most expensive in Gulf states", and Sudan limits the number that can be exported there. Rams, on the other hand, are less valued.
Use #NewsfromElsewhere to stay up-to-date with our reports via Twitter.